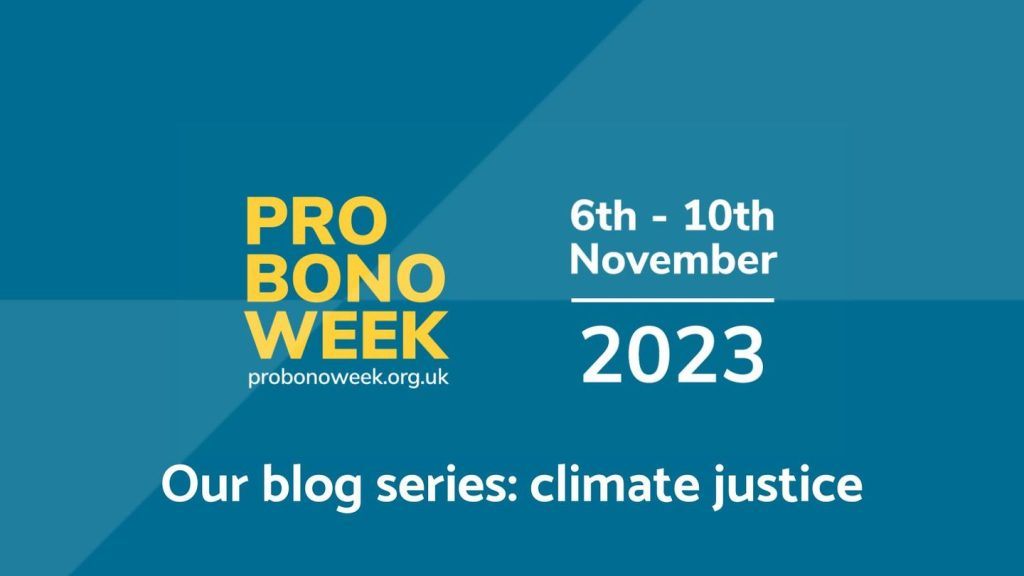 BLOG: Breaking down legal barriers to advance climate justice
Published:
November 7, 2023
To mark UK Pro Bono Week 2023, The PILS Project's team are sharing our reflections on 3 key topics: climate justice, demolishing the hostile environment, and protecting our human rights infrastructure.
In the first of our blog/vlog series, Maria McCloskey talks about why PILS are focusing on climate justice in 2023.
---
There is no single or standard definition of 'climate justice'. There may even be differing views about what it means and certainly a wide range of opinions as to how to achieve it.
Disha Ravi, a youth climate activist from Bangalore, describes climate justice as: "…being radically inclusive of all groups of people, so that everyone has access to clear air, food and water…It is a fight alongside those who are displaced; whose rivers have been poisoned; whose lands were stolen; who watch their houses get washed away every other season; and who fight tirelessly for what are basic human rights." 
Since 2018, PILS has been supporting climate justice cases in various different ways: through pro bono legal opinions and representation, court fees and cost indemnities. We have recently provided support by way of legal representation in the 'clean air' challenge by Friends of the Earth NI against the Department for Infrastructure, for its failure to carry out a legally compliant diesel emissions test on private cars in NI since 2006.  
At the beginning of 2023, it was clear to the PILS team that we needed to make climate justice a strategic priority.
We knew of many campaigns and issues that have serious implications for our environment and, ultimately, the people living in this region, but felt a distinct lack of attempts to use of law to address them.
Having worked in this area for not very long at all, I get the strong sense that people and groups, most of whom know far more about climate-related issues than me, have lost faith in the justice system. Some are taking to other means, in seeking to protect our planet. And I can't blame them.
But the law is the means by which I have sought to right various types of wrongs for the past 16 years. It isn't the only answer to the climate crisis, but I firmly believe it is a vital part of it. I'm not prepared to give up on it just yet.  
That is why PILS is committed to break down the barriers that exist for those seeking to use the law, and human rights arguments in particular, in climate or environment-related challenges. We hope that this can help to push boundaries on the thinking and develop the law here in NI when it comes to climate-related matters.
Recently, our proposal to the Law Society of Northern Ireland, of developing a mini CPD series for solicitors, to encourage more lawyers to become involved in the fight for climate justice through using legal tools, has been accepted. We will be rolling this course out between February and April 2024.  
For a long time, particularly in this jurisdiction, many people have viewed climate-related matters through the prisms of environmental or planning law. In my view, that narrow focus fails to take account of certain facts, such as: the fact that Ireland is one of the most ecologically depleted areas in the world; the fact that, in 2011, air pollution resulted in over 550 premature deaths in NI according to (what was then) the Department of Environment; and the fact that, according to UNICEF, "children are physiologically far more susceptible to air pollution than adults as their lungs, brains and immune systems are still developing." 
At the heart of the climate crisis and the quest for climate justice is people.
Our natural environment is being destroyed and human beings are suffering as a result. For us, it is that simple. Many other areas of law, such as immigration and asylum and social security, have developed and benefited from the use of human rights law. We believe that it is vital, now more than ever, that we adopt a human rights lens when seeking to tackle climate-related challenges.   
While we often see dramatic images of the impact of the climate crisis, particularly from areas in the global south, the attacks on our environment closer to home, and the ramifications for people here, should be taken just as seriously.
We just have to look at what has been allowed to happen to Lough Neagh and the widespread destruction of our lands as a result of 'big agriculture' and corporations who simply could not care less about the interests of the people in this society. Those who are in the privileged position of being elected to represent us must be held to account in relation to the decisions they take which are allowing these injustices to happen. (Later this week, PILS are taking part in a public meeting on this very issue, on Friday 10 November at QUB, organised by Love Our Lough.)  
The themes of UK Pro Bono Week 2023 are 'changing lives through pro bono', 'maximising the impact of pro bono' and 'pro bono within ESG: from climate to sustainable development'. PILS is echoing these themes through our everyday work. We will continue to support and work with our lawyers and environmental NGO members who want to use the law as their tool of choice in our collective quest for climate justice.   
---
 Watch:
Wishing everyone in the sector a great @ProBonoWeekUK

A particular 'shout out' and MASSIVE thank you to all members of @PILSni Pro Bono Register. We could not do what we do – supporting our NGO and solicitor firm members to advance #PublicInterestLitigation -without you! https://t.co/b5tYSf59b8

— Maria McCloskey (@MariaMcCloskey) November 7, 2023