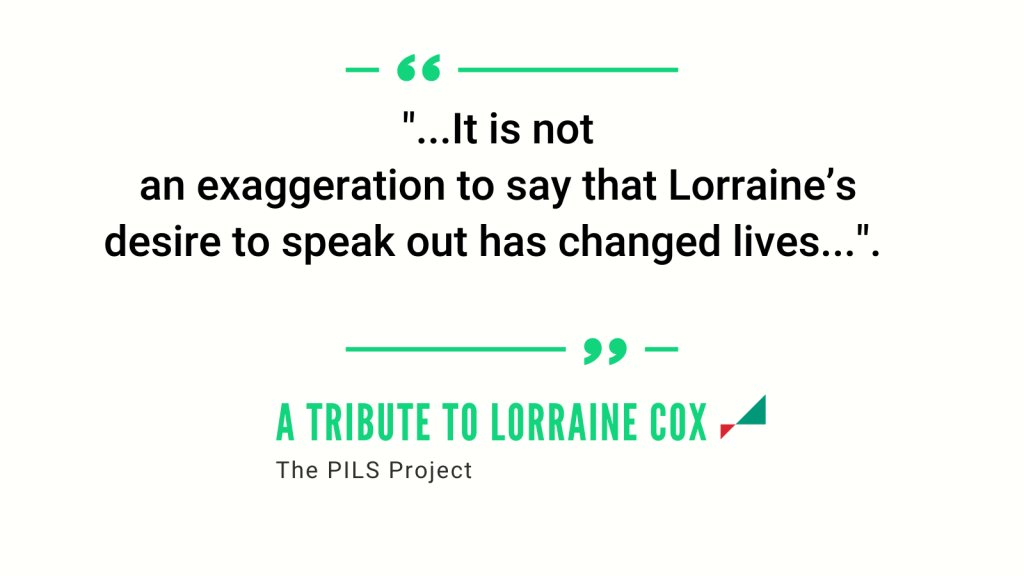 A tribute to Lorraine Cox
The PILS Project were desperately saddened to learn of the untimely death of Lorraine Cox-Connolly on 15 July 2022.
---
Lorraine's name will be familiar to many friends of The PILS Project, as she was the woman at the centre of high-profile legal proceedings in 2020, challenging the 'six-month rule' in relation to fast-tracked access to social security payments.
Her judicial review shone a spotlight on the reality of life in Northern Ireland for people who have received a terminal illness diagnosis.
Paul Mageean, chair of the PILS board, paid tribute saying: "Lorraine Cox was a determined advocate for change. PILS were honoured to have supported her judicial review and the Law Centre's legal team through our Pro Bono Register and our Litigation Fund."
During an interview with iNews in 2019, Lorraine had explained her motivation to start public interest litigation: "I'm quite a strong-willed woman and one reason I'm speaking out about this is to encourage others to fight for what their entitled to. No-one genuinely ill with MND, or MS or the like should be in this position".
Earlier this year, the Social Security (Terminal Illness) Act 2022 came into force. This law removed the six-month rule, extending access to vital financial support to many more people. Its provisions amended a rule previously branded as 'cruel', fulfilling the wishes of the 'Scrap Six Months' campaign led by people whose lives were limited by illness but who still chose to organise for change.
PILS Director Maria McCloskey also reflected on the impact of Lorraine's activism: "It is not an exaggeration to say that Lorraine's desire to speak out has changed lives. Anyone in Northern Ireland who finds themselves in a similar situation to the one Lorraine faced will now have one less administrative hurdle to jump over. That is the legacy that Lorraine has given to us all."
The Law Centre NI represented Lorraine throughout her legal challenge. Head of Social Security Owen McCloskey was Lorraine's legal officer: "Lorraine was a passionate campaigner and we would like to pay tribute to her bravery and determination. She stepped forward during an impossibly difficult period to challenge a law which impacts people at a tragic time in their lives. She has helped to secure a fundamental change and we are so thankful for her courage".
PILS' staff and board send our condolences to Lorraine's family, friends and to all who knew and loved her.