Casework
Drumragh Integrated College
Date of publication:
May 15, 2014
This casework was developed from a pro bono matter:
---
The case clarified the importance of the statutory duty on the Department of Education to encourage and facilitate integrated education.
PILS Member: Integrated Education Fund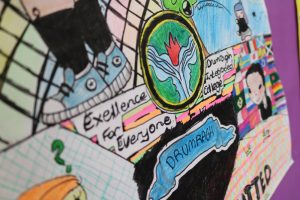 The PILS Project acted as the applicant's solicitor throughout the entire case. We obtained a legal opinion from our pro bono register. We instructed a barrister to take proceedings. We were successful in entering a Protective Costs Agreement with The Department of Education. This agreement limited the financial risk to the PILS Project if the case was lost.
Issue:
This case concerned a challenge to the approach taken by the Department of Education to a development proposal submitted by Drumragh Integrated College to increase pupil numbers.  The Applicant claimed that the Department of Education had failed to consider its statutory duty to 'encourage and facilitate' integrated education, under Article 64 of the Education Reform (NI) Order 1989 and the Good Friday Agreement.  The applicant also claimed that the Department's education planning process failed to incorporate the statutory duty.
The High Court found in favour of the Applicant.  The Court held that integrated education was a standalone concept and plainly envisages education together at the same school.  The Department of Education had not complied with its statutory duty to encourage integrated education.
The High Court ruled that the Department of Education's 'Needs Model', which underpins area-based planning, was 'inflexible' and provided an 'additional difficulty' impeding the expansion of integrated schools. This creation of an 'additional difficulty' is the 'opposite of encouraging and facilitating'.
The Court concluded that the Department of Education needed to be 'alive to the Article 64 duty at all levels, including the strategic level.'
Impact:
This judgment is extremely significant in clarifying the wide-reaching statutory obligation of the Northern Ireland government towards the promotion of integrated education to include the strategic planning level, which had not allowed for any growth in the integrated sector. The judgment has helped to create 2,000 new places in integrated schools.
The judgment has also led to the establishment of links between high level decision makers in the Department of Education and Non-Governmental Organisations (NGOs) supporting integrated schools. PILS was part of a Judgment Implementation Group (JIG) after the judicial review involving Drumragh Integrated College in Omagh. The JIG brought the school and relevant civil society groups together with the Department of Education to ensure the judgment was brought to life and its ruling implemented.
The judgment has also linked into a comprehensive review of integrated schools, as well as a significant amount of funding being allocated to the integrated sector.